Math 12 and 13 by David Wien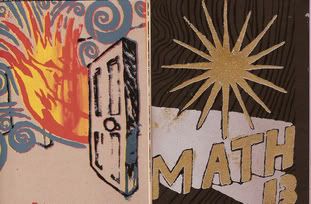 I picked up these two minis at one of my favorite comic shops,
Chicago Comics
, and there were also copies available at the sister store,
Quimby's
.
Math
is one of those mini-comics that I end up grabbing based on cover design only. You can tell that someone took the time to screen print the covers, so you pick it up and flip through the book wondering what the insides look like.
The insides of both of these are insanely detailed with swirling lines and intricate swooping designs; tight spirals and bursting stars appear on almost every page. There isn't much in the way of story and text, but a narrative is not the point of either of these comics. Number 12 has 21 words over 16 pages and some of the words are almost camouflaged in the mesmerizing backgrounds. Number 12 is a tighter package, but number 13 has a fold out centerfold and a micro-comic carefully glued to a back page.
Math
12 is $2 and
Math
13 is $5. No website, but you can email David at djwien@hotmail.com.