Habitual Entertainment by Will Dinski
Both issues of
Habitual Entertainment
have two covers. The outside covers are silk-screened transparencies, and the first issue's interior cover is also silk-screened. Dinski has taken great care in wrapping his minis, but the real fun is inside.
In issue one a group of office workers decide, after three
grievous
transgressions, that they want to kill Simon, a fellow office worker, who also happens to be the son of the boss. In fairness to them, he is kind of a dick. What's funny is how they mess with him on the fateful day. Stu walks up to Simon and casually mentions, "Tonight, after work, I'm going to beat you to death with a baseball bat… Well, not JUST me…everyone will."
Do they do it? I'm obviously not telling here, but Dinski handles the ending in an unexpected way that pleases almost all parties involved.
Issue two of
Habitual Entertainment
is longer than issue one and it feels more substantial. Gerald, a long out of work actor finally receives a call – not for an acting job, but for a secret shopper job offered by a temp agency. But he treats the gig as an acting job, telling all of his neighbors and acquaintances that he's going to be in a one-day play. And in his mind, it's an acting gig. The story is largely told through the conversations of different characters, and there are two short bits of narration. As in the first mini, Dinski tweaks the ending a bit to give the story more panache.
Dinski has a clean line and pleasing style in both of these minis. The first issue's art suffers a bit from a grainy photocopying job, but the copy job on the second is very clear. His characters are well designed and despite a large cast, there's no difficulty in telling people apart.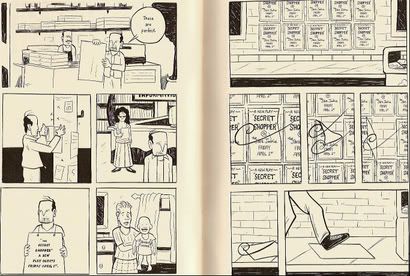 Habitual Entertainment
issue one is 24 pages for three bucks. Issue two is 33 pages for the same price. Check out
Dinski's website
, where you can buy copies of each using Paypal.