Souther Salazar is the Cover Boy at Giant Robot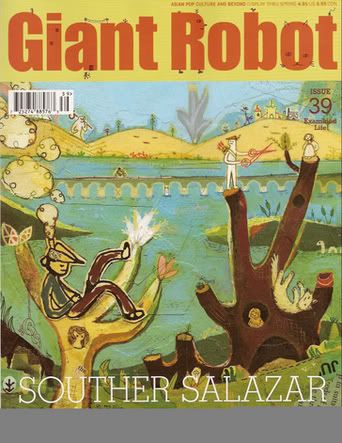 The latest issue of Giant Robot, issue 39, has a cover by Souther and a six-page interview with him inside. Now, GR has always shown excellent tastes in comics, but this issue they've outdone themsleves. If I had to identify one artist that's given me the most pleasure through mini-comics it would have to be Souther Salazar. Everything that he puts to paper is so full of love, whimsy, silliness, truth, and fun that it hits it almost makes me weep with happiness.
And this issue of GR has tiny reviews of comics like Anders Nilsen's
Big Questions
, Missy Kulik's
Persoanl Charm
,
The Ganzfeld #4
,
BJ and da Dogs
by Ben Jones, Jordan Crane's
The Clouds Above
,
The Hobbit
by Marc Bell and Peter Thompson, and the Shawn Cheng's mini-comic
Vengenace at Cackling Mountain
.
So, if you're interested in good comics, track down the lates issue of Giant Robot. Then check out their webstore for even more good comics and T-shirts.